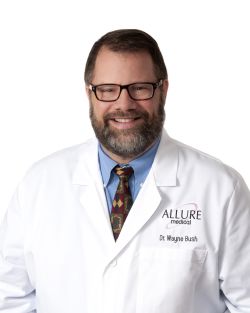 Wayne Bush, MD
Dr. Wayne Bush received his MD from Western Kentucky and received his General Surgery training at Carraway Methodist Medical Center, located in Birmingham, Alabama. He is a fellow of the American College of Surgery and is Board Certified in General Surgery.
Dr. Bush received the First Humanitarian Award from Greenview Hospital and served as Chief of Surgery, Chief of Staff, Medical Executive Committee Member and a Board member of both Bowling Green hospitals at various times in the last 20 years. He has been doing general surgery in Bowling Green for the past 20 years and enjoys treating the people he grew up with hopes to continue making positive changes in their lives for years to come.
He loves being a dad and has been a football coach for all levels, including high school, for 20 years. He also served as the Team Physician for WKU Athletics.