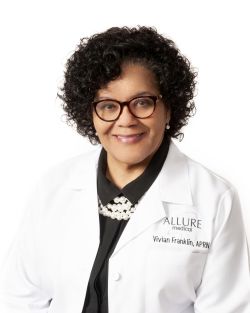 Vivian Franklin, APRN
Vivian Franklin, APRN, CWOCN, CFCN, received her Masters of Science in Nursing and is a Board Certified Family Nurse Practitioner. She is also an Honor Graduate of Emory University's Wound, Ostomy and Continence Program and is also a Certified Foot Care Nurse.
Vivian is a member of the Sigma Theta Tau Nursing Honor Society, American Academy of Nurse Practitioners and the Kentucky Coalition of Nurse Practitioners.
She began her career while treating a patient as a Family Care nurse who had a large heel ulcer that had penetrated to the bone. He said to her, "Vivian, I want to die with my legs on." After completing her training in wound care in 1992 at Emory University. It is patients like that that keep Vivian motivated and keep her excited to keep learning and deliver more than expected to every one of her patients.
Vivian has a supportive husband, son and two grandchildren who keep her busy when she isn't at work. She is thankful for her church and friends and loves to read and encourage others with a kind word or deed.