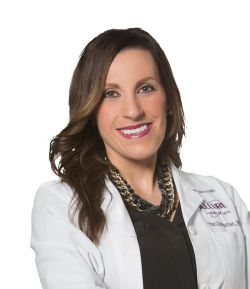 Traci Grossman, MS, PA-C
Traci Grossman joined Allure in 2014 and has become a welcome part of our team. Traci has been a Physician Assistant since 2008 after she received her Masters of Science degree from the Physician Assistant program at Western Michigan University. She was awarded top honors among her graduating class for her Masters Thesis, which focused on the nutritional needs of patients with significant burns.
She has worked in several Emergency Departments and Level 1 Trauma centers since she graduated. Prior to getting her Physician Assistant Degree, she practiced as a registered dietitian at St. Mary's Hospital in Saginaw, Michigan. She received her Bachelors of Science from Indiana State University, where she graduated Summa Cum Lauda and was the Department of Science's Senior of the Year. She also completed a dietetics internship and passed her national board exam to become a Registered Dietitian.
Traci brings her vast array of procedural skills and her experience treating critically ill patients. She has been trained in ultrasound-guided central line placement, ultrasound FAST exams, and has held her ACLS certification for over 6 years. Traci also has a passion for nutrition and health. She enjoys helping patients reach personal goals and improve their lives.
Traci holds several degrees from: Indiana State University, Terre Haute, IN – Bachelor of Science (Summa Cum Laude) – Dietetics Western Michigan University, Kalamazoo, MI – Master of Science in Medicine In addition to the above degrees, as part of her specialty, Traci holds the following professional affiliations.
Professional Affiliations: American Academy of Physician Assistants – Active Member Michigan Academy of Physician Assistants – Active Member American Dietetics Association – Active Member Society of Emergency Medicine Physicians Assistants – Active Member
Professional Licensure/Certifications: State of Michigan Physician Assistant License National Commission on the Certification of Physician Assistants Registered Dietitian of the American Dietetics Association Advanced Cardiac Life Support