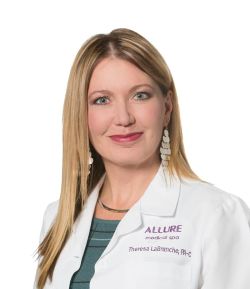 Theresa LaBranche, MS, PA-C
Theresa LaBranche is a board-certified Physician Assistant in Surgery and Primary Care who has been practicing for over 20 years. Her extensive clinical knowledge ranges from family practice, neurology and neurosurgery to minimally invasive vascular care and advanced cosmetic rejuvenation and enhancement. Theresa holds a Master of Science in Physician Assistant from the University of Detroit Mercy and graduated cum laude from the University of Michigan with a Bachelor of Science in Biology and minors in Chemistry and Physics. She is currently pursuing a Masters of Business Dynamics. As one of the nation's leading injectors and trainers for Botox cosmetic and facial fillers, Theresa provides pan-facial restorations and youthful enhancements for her patients. She specializes in nasal and jawline reshaping, as well as lip augmentation, cheek highlighting, brow lifts, temple revolumization and even earlobe restoration. Theresa also treats excessive sweating, migraines and teeth grinding with botox.
Theresa strives to fulfill the patient's vision, whether its a very natural, subtle restoration or augmentation to advanced image changing art. She treats a wide spectrum of patients, from moms to celebrities, cosplay artists and film industry designers to patients left scarred or disfigured from accidents, or people who were just born with some asymmetry. Theresa enjoys making her patients feel confident and happy.
Theresa has worked in the cosmetic industry for over 10 years and has extensive knowledge and experience with non-surgical fat reduction, Coolsculpt and Kybella, as well as non-surgical skin tightening, Ulthera and Thermage, laser resurfacing with Fraxel Dual and micro-needling with PRP, Active FX, and light therapy with PDT and IPL. She has served previously on the vein team and performs endovenous laser ablation of varicose veins, microphlebectomy and ultrasound guided sclerotherapy.
Theresa believes it's easier to be excellent when you feel excellent, and its easier to feel excellent when you like what you see in the mirror. She is passionate about providing industry-leading patient care by helping her patients transform their visions of themselves into reality.
A Physician Assistant since 1996, Theresa holds degrees from: University of Michigan – Bachelor of Science in Biology with minors in Chemistry and Physics, Cume Laude University of Detroit Mercy, Masters in Physician Assistant
Board Certifications: Physician Assistant In Surgery & Primary Care Professional Affiliations: Michigan Academy of Physician Assistants American Academy of Physician Assistants