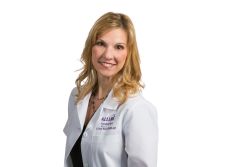 Stephanie Rey, MSN, WHNP-BC
Stephanie Rey attended Case Western Reserve University in Cleveland, Ohio, where she earned her Bachelors of Science in both Nursing and Biopsychology and Neurophysiology as well as Masters of Science in Nursing. She is a Board Certified Nurse Practitioner with a specialty in Women's Health.
Over the last 14 years, Stephanie assumed responsibilities for a bioidentical hormone replacement program for both men and women, diagnosing and treating patients for related health issues. She has specialized in managing and resolving symptoms of adrenal and thyroid imbalance, PMS & dysmetabolic syndrome as well as offering lifestyle guidance to prevent cancers and support bone and cardiac health. Stephanie has received specialized training to provide vascular care to patients suffering from venous insufficiency as well as a vast knowledge of cosmetic procedures such as Botox/facial fillers, skin resurfacing and fat reduction.
Stephanie began playing piano at age 5 and also played the violin, playing in various orchestras and competing in solo competitions in various states. She also enjoys traveling, cooking, animal rights/protection, and is a big sports fan-go Steelers!