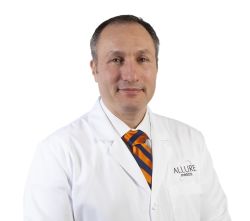 Robert Valice, M.D.
Dr. Robert Valice has lived and practiced in Michigan for his entire career. He has dedicated his career to helping people achieve excellent health by involving them in the decision process. This empowers Dr. Valice's patients to take an active role in their own health care.
Dr. Valice graduated from Michigan State university with his Bachelor of Arts in Accounting before attending Wayne State University where he completed his Doctor of Medicine degree. He completed his Residency in Obstetrics and Gynecology at William Beaumont Hospital and is Board Certified in Obstetrics and Gynecology. Dr. Valice is also a member of the American Board and American College of Obstetrics and Gynecology as well as a member of the American Vein and Lymphatic Society.
In his spare time, Dr. Valice likes to exercise, participating in triathlons and runs for autism, play tennis and spend time traveling with his family.