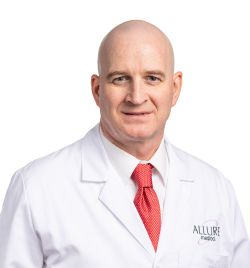 Kyle Herron, MD, DABVLM
Dr. Kyle Herron is a board-certified general surgeon who grew up in the small town of Metropolis, Illinois. His hometown has the distinction for being known as the "Home of Superman".
Growing up he always knew that he wanted to become a surgeon. He graduated with high honors from Murray State University and received his Doctorate of Medicine at Ross University. He performed his surgical training at York Hospital in York, Pennsylvania where he was Chief Resident.
Dr. Herron's extensive surgical background has allowed him to further focus on the diagnosis and treatment of venous and lymphatic disorders. He is a Diplomate of the American Board of Venous and Lymphatic Medicine and a member of the American Vein and Lymphatic Society. He has participated in a surgical mission trip to Honduras. Dr. Herron has been active in charities for The Wounded Warriors and local food banks.
In his spare time, Dr. Herron enjoys exercise, travel, chess, mountain biking and playing golf.
Professional Affiliations:
American Vein and Lymphatic Society
Educational Achievements
Board-certified by the American College of Surgeons
Diplomate of the American Board of Venous and Lymphatic Medicine