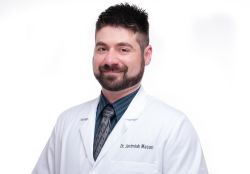 Jerimiah Mason, M.D.
Dr. Jerimiah Mason, MD, attended medical school in Tampa, FL, where he graduated and moved to Birmingham, AL where he completed his training in General Surgery. Dr. Mason and his wife moved to Asheville, NC, after becoming Board Certified and have been there ever since.
In Dr. Mason's spare time, he enjoys sports card, playing drums and camping trips.