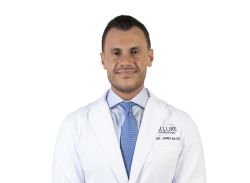 James Bazzi, M.D.
Dr. James Bazzi received his Bachelor of Sciences from Wayne State University before completing his MD from the Wayne State University School of Medicine. He is Board Certified by the American Board of Internal Medicine and a member of the American College of Physicians and the American Medical Association. While in school, Dr. Bazzi received the Presidential Scholarship for his WSU undergrad as well as graduating Summa Cum Laude.
Dr. Bazzi grew up in a family who was predominantly in the business world where the importance of effective communication and good interpersonal skills and above all, sensitivity to the needs of others, were instilled in him from a young age. He completed his residency at Beaumont Hospital in Royal Oak and found the ability to pursue his passion for helping people at Allure Medical.
He likes to set an example for his patients and coworkers by leading a healthy lifestyle. When not at work, you can find Dr. Bazzi at the gym or spending time with his friends and family.