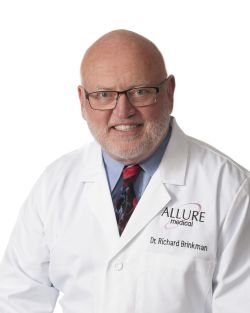 Richard W. Brinkman, MD, FACS
"Growing up, my father would always say that, if he could go back and start over, he would become a doctor. There was something compelling about medicine, the act of dedicating your life to helping others, that was present in my father's personality, and he passed it down to me and my brother, who is also a physician.
"As a surgeon in training, I had the great fortune to study and work under the doctor who had been in charge of varicose-vein care when England nationalized its medicine. Under this brilliant man, I developed a deep understanding of veins and how best to treat them. For this reason, and because few other surgeons wanted to treat veins, I wound up handling a large number of vein cases and getting great results.
"Today I focus exclusively on treating the veins, drawing on my long experience while also offering the most advanced, minimally invasive techniques for treatment that is faster, more convenient and provides the best possible results. For me, it's about compassion and commitment… and pursuing excellent results with focus and intent."
Board-Certified: General Surgery Fellow: American College of Surgeons Residency: General Surgery, Cook County Hospital, Chicago, IL MD: Northwestern University Medical School, Evanston, IL MS: Anatomy, University of Wisconsin BS: Wheaton College Professional Memberships: American College of Phlebology