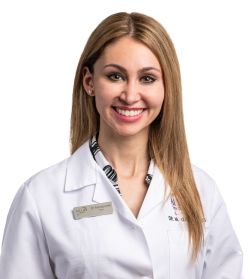 Mariana Atanasovski, M.D.
A native of Michigan, Dr. Mariana Atanasovski graduated Summa Cum Laude from Wayne State University, where she received bachelor's degree in Biological Sciences. She continued her education at the Wayne State University School of Medicine, where she received her Doctor of Medicine degree with honors.
After a transitional internship at Crittenton Hospital Medical Center in Rochester, MI, Dr. Atanasovski completed her residency in Dermatology at Wayne State University. She is the recipient of numerous honors and awards, including the prestigious Board of Governors Award and Presidential Award from Wayne State University. Dr. Atanasovski actively participates in several professional societies, and regularly volunteers her time and expertise for skin cancer screenings with various organizations.
As a practice, Dr. Atanasovski believes dermatology provides a "fascinating clue to the inner working of the human body" and uses that approach in her work. Her specialties include diagnosis and treatment of common skin conditions, skin cancers, surgical procedures, pediatric and cosmetic dermatology.
Board certifications: American Board of Dermatology
Professional Affiliations: American Academy of Dermatology Alpha Omega Alpha Honor Society American Society of Dermatologic Surgery American Society for Laser Medicine and Surgery Dermatology Foundation Michigan Dermatological Society Michigan State Medical Society Women's Dermatology Society