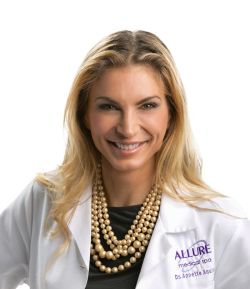 Annette Aquino, D.O.
Dr. Annette Aquino is board certified by the American Academy of Anti-Aging, American Osteopathic Board of Family Physicians and the National Acupuncture Detoxification Association. She has traveled to workshops around the world studying Yoga and Ayurveda and applies these principles to her practice. She is also a Registered Yoga Teacher and offers workshops involving healing, dance, nature and art.
Dr. Aquino graduated from Michigan State University with a Bachelor of Science degree in Nutritional Sciences. She then received her medical degree from the Michigan State College of Osteopathic Medicine where she completed an externship at Mount Clemens General Hospital.
Following an Internal Medicine Residency at Mount Clemens General Hospital, where she participated in preventative medicine rotations, Dr. Aquino went on to a Family Practice and Osteopathic Manipulative Medicine Residency at Botsford General Hospital. During this residency, she also paid special attention to Alternative/Complimentary Medicine and Osteopathic Manipulative Medicine as well as western medicine.
Dr. Aquino has been an Attending Family Physician at Eastpointe Family Physicians since 2004. In her role with Allure Medical, she works with patients on achieving total body wellness and the restoration of vitality. Dr. Aquino treats conditions such as thyroid disease, adrenal fatigue, and depression by restoring intestinal health, metabolism and hormone balance and offers acupuncture. She also works with patients needing to lose weight through a comprehensive plan including acupuncture for detoxification and addiction, yoga prescription, colon health, metabolism support, and Zerona Laser for fat reduction when needed.
She is also skilled at aesthetic procedures such as Botox and Facial Fillers as well as vein treatment procedures, and has a passion for helping people find the best version of themselves.
In her spare time, Dr. Aquino is an accomplished yoga instructor and is very active in the yoga community in the Metropolitan Detroit area. Many workshops will be coming our way, combining her Yoga instruction with healing from the inside out.
Certifications: AOA and ACOFP Board Certified in Family Practice 2013 and 2004 State of Michigan: Licensed Physician Board-Certified in Anti-Aging (Both Written and Oral) as of 2013 Shindo Japanese Massage Method Certification 2012 Registered Yoga Instructor 2009