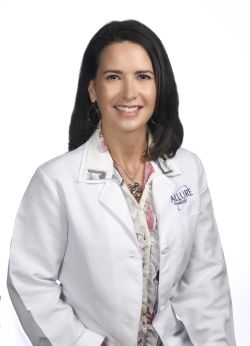 Adriana Naidel, P.A.-C.
Adriana received her Bachelor of Science from Ohio State University and her Master of Science in Physician Assistant Studies from South University in Tampa, Florida. She is a member of the American Academy of Physician Assistants, the Florida Academy of Physician Assistants and the American Society for Metabolic and Bariatric Surgery.
She started her career as an orthopedic surgery assistant as a first assist, performing shoulder, knee and hip arthroplasty and many other surgeries. Adriana began a fragility clinic at the orthopedic practice she worked at, treating patients with osteoporosis to help reduce their risk of fractures. She later developed a passion for helping people lose weight and began work with a bariatric surgeon and an endocrinologist to help diabetic and obese patients. She began a non-surgical weight loss program while there to help patients who don't qualify for surgery lose weight, growing her passion for helping patients feel better and live more active lives.
While at Ohio State University, she received the Rookie of the Year Award for the Women's Varsity Golf Team and was an OSU Big Ten Champion. In her free time, Adriana likes to spend time with her three children and her engineer husband. She continues to love golfing and also enjoys home improvements, traveling and SCUBA diving.